Introducing ModelCenter MBSE for PTC Integrity Modeler | PHOENIX INTEGRATION and PTC
Abstract
Attend a free webinar on January 24 to learn about and see a demo of the upcoming release: ModelCenter MBSE 1.0.1 for PTC Integrity Modeler
ModelCenter MBSE 1.0.1 for PTC Integrity Modeler allows engineers to validate system behavior and performance using any software application:
Connect any software application to PTC Integrity Modeler's system models

COTS tools such as Excel®, MATLAB®, and Simulink®
CAE Tools such as HyperWorks®, NASTRAN®, ABAQUS®, and ANSYS®
CAD Tools such as Creo®, NX®, CATIA v5®, and SolidWorks®
Legacy FORTRAN or C++ applications
Python, Java, and VB scripts
Databases and PDM/PLM solutions
Almost anything else

Run the connected simulation directly from PTC Integrity Modeler's unique SySim:

Graphical functional co-simulation
Direct interaction with simulation parameters
Record simulation results with optional model import

Validate system behavior and performance early in the lifecycle
Close the simulation loop, comparing models with the real world
The webinar will feature a demonstration of the integrated toolset, and will include a live Q&A session.
ModelCenter MBSE  1.0.1 for PTC Integrity Modeler is the first product to utilize Phoenix Integration's next generation MBSE integration platform – ModelCenter MBSE.
Fill out the form to gain instant free access to our webinar!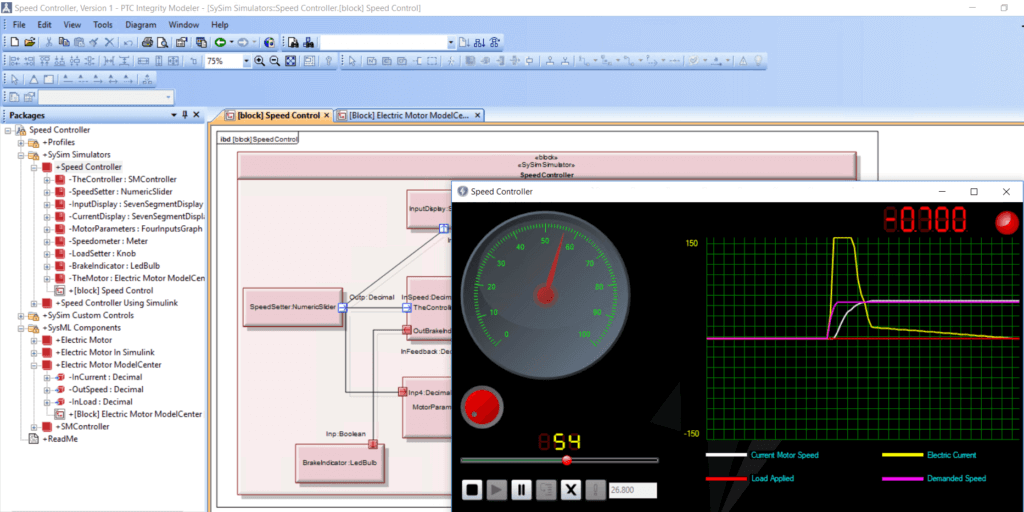 Please fill out the form below to view your webinar.