MDAO for Conceptual Aircraft Design at Northrop Grumman Webinar | NORTHROP GRUMMAN
Abstract
For over a decade, Northrop Grumman Aerospace Systems (NGAS) has employed Phoenix Integration's ModelCenter software to develop numerous conceptual aircraft multidisciplinary design analysis & optimization (MDAO) workflows. Each workflow has involved integrating a number of discipline-specific analysis tools together to make one cohesive analysis, specifically tailored to the problem at hand. However, as with any new technology, many challenges, including cultural and technical barriers, have had to be overcome in order to implement and realize the advantages of MDAO. Still, there are fundamental questions that continue to linger outside of MDAO circles:
 Why MDAO?

 What is MDAO? 

 How to do MDAO?
An attempt will be made to answer these questions, concluding with an application example and lessons learned.
Fill out the form to start watching MDAO for Conceptual Aircraft Design at Northrop Grumman Webinar today!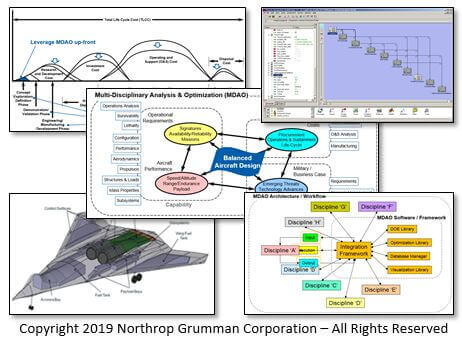 Please fill out the form below to view your webinar.