Announcing the Release of ModelCenter MBSE 2.0 for PTC Windchill Modeler Webinar | PHOENIX INTEGRATION and PTC
Abstract
ATTEND the webinar presented by Mr. Subodh Chaudhari, Senior Application Engineer, Phoenix Integration and Mr. Harlen Dean, MBSE Specialist at PTC, on November 21, 2019 at 10:00 am ET. 
LEARN ABOUT and SEE A DEMO of our recent release: ModelCenter MBSE 2.0 for PTC Windchill Modeler.
This new release extends the existing integration to add more features and capabilities. In addition to the existing ability of Windchill Modeler's SySim to simulate and co-simulate with ModelCenter connected simulators, users can now connect any 3rd party simulation tool directly to Windchill Modeler's models. This gives Windchill Modeler users the ability to execute any 3rd party simulation tool (including full ModelCenter workflows) to validate that the system design meets the system requirements.
Connect any simulation software application to PTC Win

d

chill Modeler's models

Commercial Off-the-Shelf (COTS) tools such as Excel, MATLAB, and Simulink

CAE Tools such as HyperWorks, NASTRAN, ABAQUS, and ANSYS

Legacy FORTRAN or C++ applications

Python, Java, and VB scripts

Databases and PDM/PLM solutions

Almost anything else

Complex analyses workflows combining & chaining any of the above

Run the connected simulation directly from Windchill Modeler

Validate system designs comply with the requirements early in the design lifecycle

Use the integrated dashboard view to see at a glance which requirements are satisfied and which are not

Use ModelCenter's trade study engine to find designs that satisfy requirements

Optionally update the systems model with these new designs and reconfirm the requirements are met
Learn more about our release of ModelCenter MBSE 2.0 for PTC Windchill Modeler by filling out the form and watching our on-demand webinar today!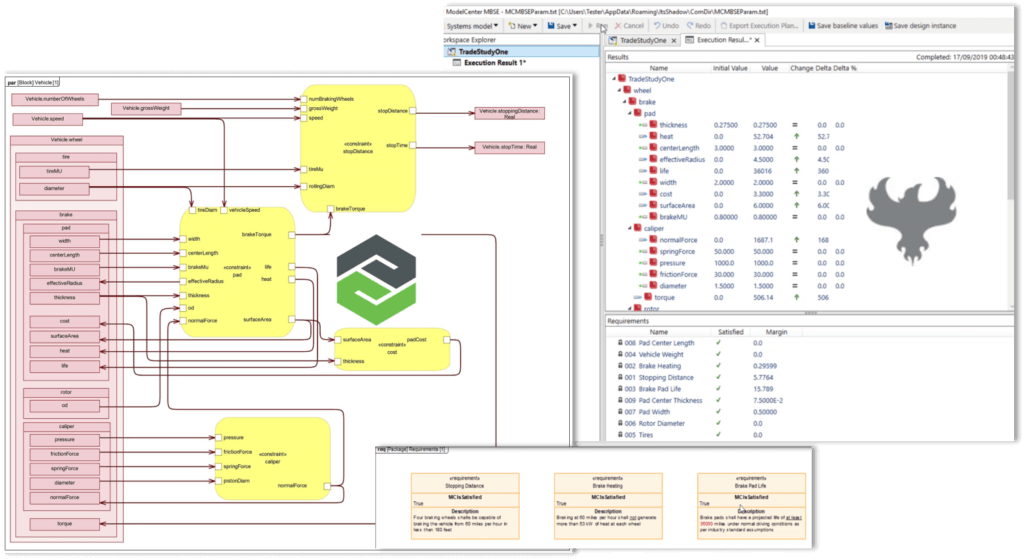 Please fill out the form below to view your webinar.