MBSE Webinar | Creating the Digital Thread "Golden Spike" to Connect MBSE and MDAO | NORTHROP GRUMMAN SPACE SYSTEMS
Abstract
On May 10, 1869, after six years of construction, the first transcontinental railroad was completed when the Central Pacific Railroad and Union Pacific railroads were joined by the Golden Spike.  Establishing this new connection between the East and West coasts did not happen by accident.  All parties had to understand the required end state so they could work in parallel based on integration planning laid out at the start of the project. 
What if we could execute our MBSE and MDAO integration efforts in a similar manner?  We could enable our MBSE and MDAO teams to work concurrently in a separate yet integrated fashion by developing a complete definition of done together for both the MBSE and the MDAO efforts before their work begins to establish a trusted Digital Thread between architectural and analytic models. 
We are doing this at Northrop Grumman Space Systems by leveraging ModelCenter MBSE integration activities to fully define the interface between architecture models and analytic models up front, as a joint activity between our Systems Engineers and our domain Subject Matter Experts.
Come join us!
Participation in this event is free.
Images:
Golden Spike Ceremony, image credits: Andrew J. Russell, Public domain, via Wikimedia Commons
Golden Spike Workflow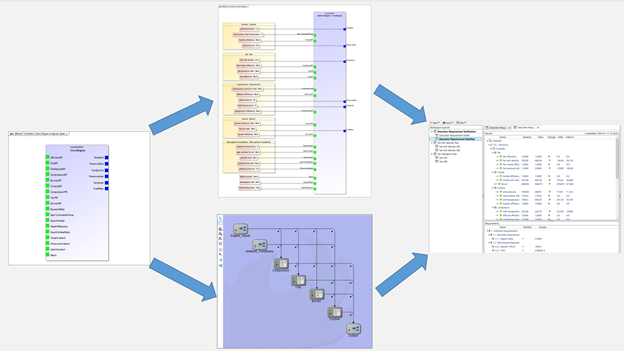 Please fill out the form below to view your webinar.
Webinar Recording
Watch the full webinar with Q&A Duration: 1hr 11min
Presentation PDF
View the Presentation File Size: 3.9 MB Slides: 22