French Institute of Technology Antoine de Saint Exupéry deploys ModelCenter®Integrate in the framework of MDA-MDO R&D project
July 25, 2018
Toulouse, FRANCE— 25 July 2018— Phoenix Integration announced today the deployment of ModelCenter Integrate at the Institute of Technology Antoine de Saint Exupéry.
IRT Saint Exupéry is a world class Centre of Excellence for the development of cutting edge technologies in aeronautics, space, and embedded systems.  It provides a collaborative environment for public and private research on three main topics: high performance multifunctional materials, more electric aircraft, and embedded systems.
Phoenix Integration's ModelCenter Integrate technology is currently deployed at IRT in support of embedded systems research and is used as a simulation workflow engine within the MDA-MDO project. This project aims to provide methods and tools for aeronautical use cases involving multi-physics analysis and multidisciplinary design optimization.  This project involves key aerospace industry participants, including Airbus, Sogeti High Tech and Altran.  
The key benefits of using ModelCenter Integrate on the MDA-MDO project are:
ModelCenter's ability to build fully automated simulation workflows for structural optimization helps reduce development time and results in better products
ModelCenter's ability to interact with academic tools and platforms through its external python API gives IRT great flexibility in choosing the best tools for the job 
A fully automated workflow dedicated to Aircraft structural optimization has been successfully developed at IRT Saint Exupéry with ModelCenter Integrate and deployed within the IRT platform, so that Multi Disciplinary Optimization scenarios could be applied
This chain involves all key design structure capabilities from external geometry update to structural sizing.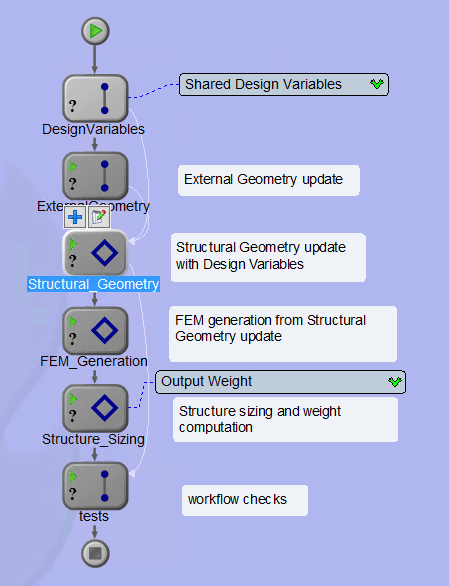 This workflow contains a hierarchy of 11 sub workflows, each of them having 10 wrappers running on windows or linux. A few dozen hours computation are required to execute the complete workflow.
About 10 shared design variables are exposed by the workflow to the MDO platform, from which MDO strategies could be applied.
The ModelCenter workflow has been integrated and deployed within the IRT platform thanks to its external python API. ModelCenter workflow executions are steered by an MDO engine, fully developed by IRT Saint Exupéry, building dynamically MDO processes.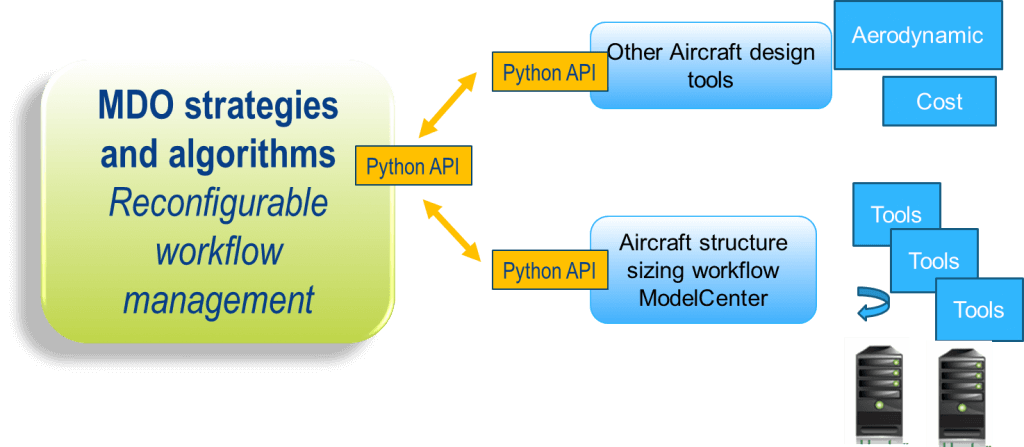 About IRT Saint Exupéry
IRT Antoine de Saint Exupéry is a world class centre of excellence in Aeronautics, Space and Embedded Systems. This Institute of Technology combines resources from public and private partners to lead R&T activities in three strategic domains: High Performance Multifunctional Materials, More Electric Aircraft (MEA) and Embedded Systems. Applications targeted include aeronautics, space and embedded systems. Its world class expertise and technology platforms, as well as its collaborative environment, boost the maturation and transfer of breakthrough technologies (TRL 4-6) to its industrial partners. Learn more at www.irt-saintexupery.com.
Press Contact
Diane Loth, Giesbert & Mandin, +33 6 47 27 74 29, d.loth@giesbert-associes.com
About Phoenix Integration
Phoenix Integration's ModelCenter is the environment for Model Based Engineering. ModelCenter is a vendor-neutral software framework for creating and automating multi-tool workflows, optimizing product designs, and sharing and organizing engineering data and knowledge. It is used by leading organizations worldwide to reduce development costs, improve engineering efficiency, stimulate innovation, and design more competitive products. Successful applications can be found in many different industries, including aerospace, automotive, defense, electronics, energy, heavy industry, and shipbuilding. Learn more at www.phoenix-int.com.
Press Contact: 
Julie Cunningham, Phoenix Integration +1 586 484 8196, jcunningham@phoenix-int.com