Hypersonic Demonstration using the Parsons Digital Engineering Framework Webinar | PARSONS
Abstract
This paper presents a demonstration of digital systems engineering at a System of Systems level. The focus is on the deployment of various sensor platforms to provide tracking opportunities for various hypersonic trajectories. Requirements are generated based on high level system performance and how the overall laydown contributes to the maximum viewing time allowed for the system of systems. The paper outlines the process of generating a threat vignette and using that to develop requirements based on system performance.
The laydown consists of fixed and mobile sensor platforms and an optimization study is performed to determine the best placement of mobile sensors within operational areas. In addition, a probabilistic analysis is performed to calculate the most likely position within 3
sigma around each optimized mobile sensor location. These values are used to determine threshold and goal key performance parameters that can be used in trade studies to see the effects of modifying the sensor parameters and ensuring that requirements are still being met.
This paper also presents a digital framework that was used to create the workflow and integrate various simulations tools such as STK and MATLAB into the process. The framework consists of a Model Based Systems Engineering tool, No Magic's Cameo; a integration tool  and simulation execution engine, Phoenix ModelCenter, and performance models developed in Systems Tool Kit and MATLAB. Outputs from these studies are configuration managed in a SQL database and performance metrics can be view through a Digital Dashboard, such as Microsoft's PowerBI tool. Finally, all simulations are ran in a virtual environment hosted in Microsoft Azure.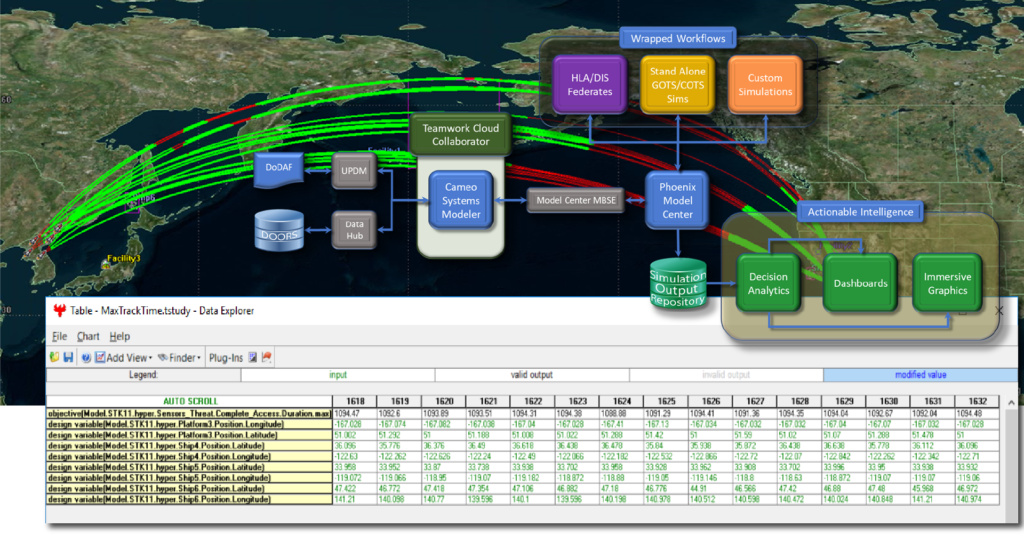 Please fill out the form below to view your webinar.
Webinar Recording
Hypersonic Demonstration using the Parsons Digital Engineering Framework
PARSONS - Hypersonic Demonstration using the Parsons Digital Engineering Framework
Presented by Mr. Stephen Thomas, Technical Director, Parsons