Special Promo on our training courses to help you to maximize the return on your ModelCenter investment
1
ModelCenter® Integrate On-Demand Training - Spring 2020 Promotion!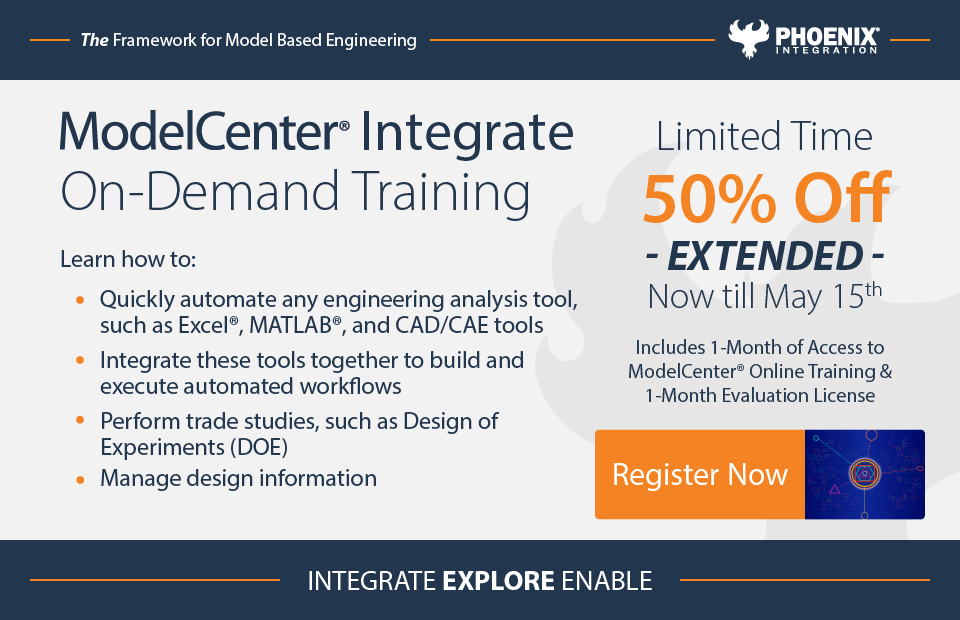 The ModelCenter® Integrate training course is the foundational class for ModelCenter®. It provides a basic introduction to our tools and is critical in getting users on the right path to get the most out of ModelCenter®. Students finishing this course will have gained the knowledge to automate their analyses and build automated workflows around them. Completion of the ModelCenter® Integrate Training is also required for users to receive support from our support line. During the 16-hour, self-paced course, students will learn how to automate and integrate software simulation solutions to create a workflow. Please note that the training is web-based.
Activities
Access to the ModelCenter® Integrate Online Training materials for one month. The one-month term begins upon enrollment

Utilizes the OpenEdX training framework to provide instruction using static webpages and videos. Includes hands-on tutorials

Access to online training forums and discussion boards

Upon completion of the training, students will be given a short exam to test course knowledge. Once passed, a certificate will be issued for your company's training records.
Learn how to:
Quickly automate any engineering analysis tool, such as Excel®, MATLAB®, and CAD/CAE tools
Integrate these tools to build and execute automated workflows
Perform trade studies, such as Design of Experiments (DOE)
Manage design information
Students finishing this course will have the capability to automate their analyses and build automated workflows from them.
Further discounts available for groups of 10+ students. Please contact us at sales@phoenix-int.com 
Prerequisites: NONE