ModelCenter 14.5
PHOENIX INTEGRATION, an Ansys Company, is pleased to announce the release of ModelCenter® 14.5.
This release includes a number of bug fixes and performance enhancements. Highlights of this release include:
New Unified Component Framework
 
New ModelCenter® Component Plug-Ins now utilize a new, unified framework that allows the created components to be independent of the workflow itself.  This means the components are reusable and distributable among Ansys products including ModelCenter® Desktop, ModelCenter® Remote Execution, and ModelCenter® Cloud.  The ModelCenter® Component Plug-Ins now offer more straightforward automation capability that is easier to understand, easier to use, easier to teach, and is more user friendly.  The new framework is built on the lessons of 20 years of wrapping analyses.  The interfaces used will look familiar to anyone who has used our tools in the past, but the new framework separates the execution of a Plug-In from the UIs that edit it to give flexibility and maintainability. 
 
When adding a new component to a workflow, a dialog will be shown allowing users to specify any files associated with the analysis.  When using QuickWrap select "Use Existing Directory" as you may have an existing directory containing files.  With Plug-Ins such as CAD, MATLAB, or Excel Components select "Import Files Manually" if your analysis files aren't already organized in a directory.  For components such as the Script Component where no files may be needed select "No Files Needed".  Packaging files with the component makes reusing and distributing components easy.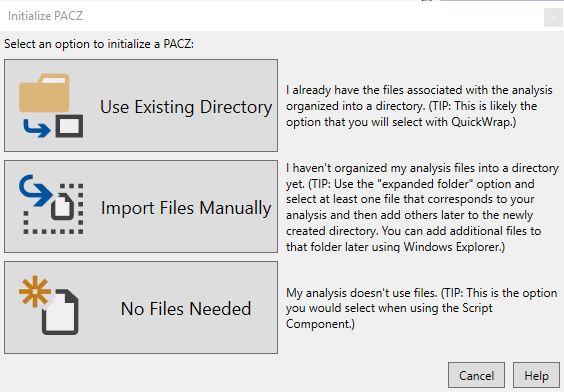 Legacy Plug-Ins and wrappers are still supported and your existing workflows will still run exactly the same. 
New Plug-In for Moxie
 
A new Plug-In for Moxie from AGI, an Ansys Company, has been added to ModelCenter®.  Moxie and ModelCenter® MBSE work together to form the bridge between authoritative SysML architectural models, and executable analytical models. ModelCenter® MBSE facilitates simulation of structural, parametric, and requirement aspects of SysML design. Moxie facilitates simulation of behavioral SysML design (e.g. state machines). ModelCenter® MBSE and Moxie can be combined to allow trade studies on behavioral designs.
 
Numerous Bug Fixes including stability and robustness improvements in ModelCenter®, ModelCenter® MBSE, and ModelCenter® Cloud.  View the Release Notes for a full list of bug fixes. 
The full release notes for each product can be found HERE.
If you need login information to view the release notes, please CONTACT SUPPORT.
Best regards,
The ModelCenter® Team